Top Searches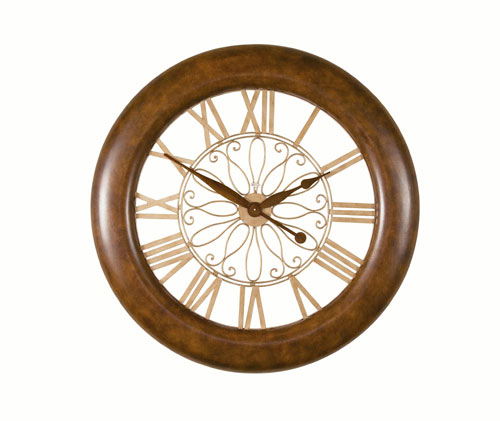 $693.00
5012 Moritz This stylish Grand Gallery Wall Clock features brown leather finish on the outer case with antique platinum wrought iron Roman numerals matching spade hands and individually handformed center design. A quartz time only movement operates with one AA battery. A 1 year warranty is included with this clock. Dia 48inch 122cm D 3inch 8cm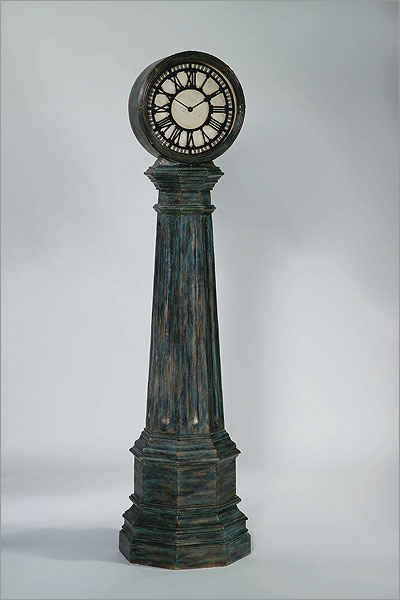 $1781.50
2257 Merchant Reminiscent of the Penn Station clock in New York city this Outdoor/Indoor lamppost design in a cast resin material is weather resistant and finished in Antique Verdigre. The trap door at the base allows weight to be added for extra stability. A raised Roman numeral track finished in black rests against an aged white background dial and is protected by a rubber gasket to keep moisture out. The quartz time only movement operates with 1 AA battery not included . H 80inch 204cm W 20inch 51cm D 20inch 51cm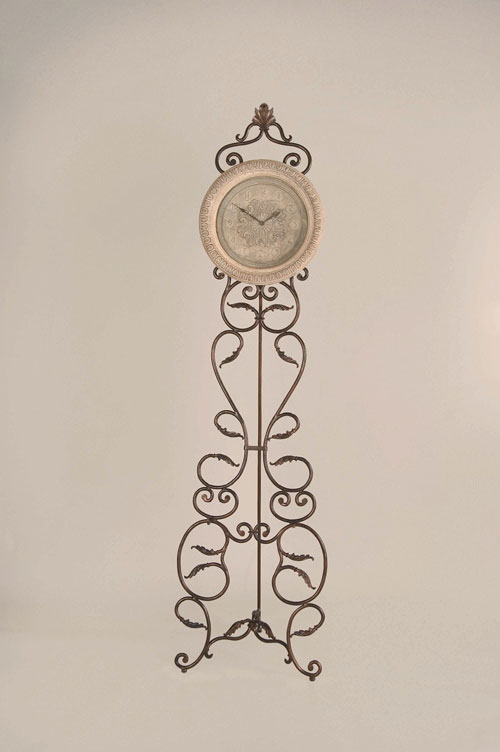 $1022.00
4005 Paris An avantgarde design the Paris offers dual functionality as a timekeeping accent piece and Easel designed frame to which artwork or a chalk board can be displayed with ease. Finished in an Aged Bronze on hand formed wrought iron this floor clock bestows a versatility to enhance a kitchen nook family game room or home office. A cast stone dial with raised Arabic numerals and center design is encircled by an embossed beaded frame behind a convex glass crystal lens. A time only quartz movement uses one AA battery not included . H 87inch 221cm W 24inch 61cm D 21inch 54cm

$1344.00
2041 Clarksburg A solid arched bonnet on the crown and reeded pilasters with top and bottom turned capitals is shown on this clock finished in Country Maple on select hardwoods and veneers. An interior light reflects off of the three adjustable glass shelves and is a perfect display for collectibles. Access to these shelves is made easy with two full length side glass doors. A full size brass finished dial features raised Arabic numerals embossed center corner spandrel design and a stationary moon dial. A time only quartz movement uses one AA battery not included . H 79 inch 201cm W 22 inch 56cm D 11 inch 28cm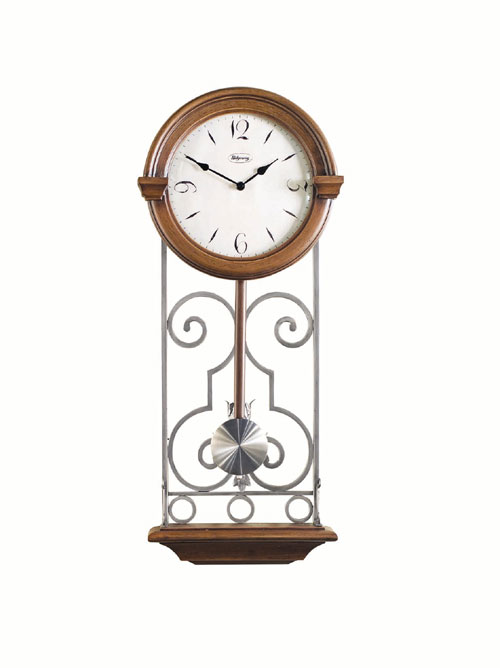 $402.50
5031 Library Of all the rooms in Biltmore House the Library best reflects Mr. Vanderbilts intellect and personality. Not only stocked with books dating back to 1561 the Library showcases some of the houses finest craftsmanship. Inspired by this exquisite room the Library wall clock features metalwork found throughout the room and is highlighted by a unique spire and leaf detail. Finished in Royale Cherry the round bezel capped in crown mouldings encases the antique dial with Arabic numerals. Brushed nickel metalwork complements the grid pendulum of the same finish. Finely blending sophistication with Old World style this unique timepiece will transform your home and truly inspire extraordinary living. A oneyear warranty is included with this clock. One AA battery is required. H 28 .25 inch 71.8 cm W 12inch 30.5 cm D 3 .75 inch 8.6 cm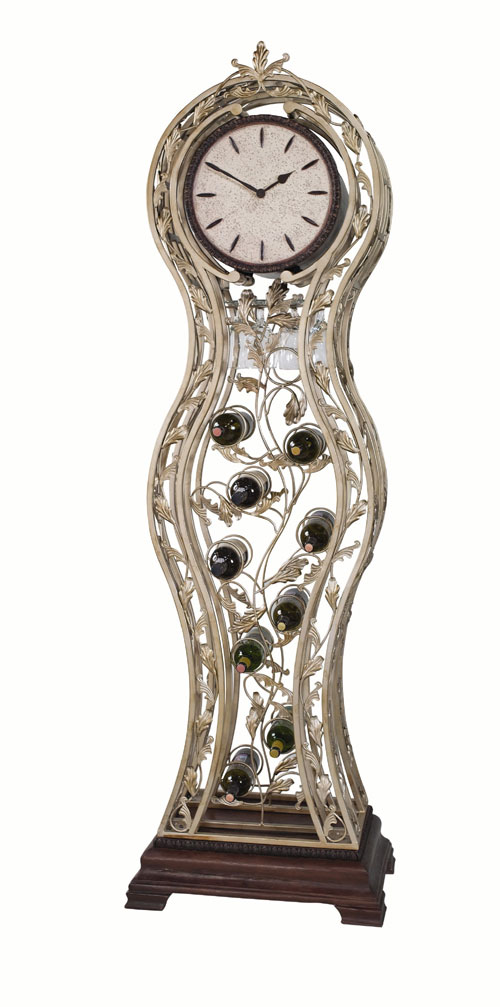 $2233.00
4013 Vineyard George Vanderbilt wanted Biltmore to be a working selfsufficient endeavor. Today vineyards trace the rolling hills on this 8 000acre Estate and annually produce awardwinning wines. In the tradition of these fine wines the Vineyard is carefully hand crafted in a gracefully flowing leaf and vine motif with an aged silver finish. Store your favorite assortment of wines in the functioning wine rack which is designed to accommodate nine bottles along with up to four wineglasses. The timepiece suspended between the aged silver metalwork features a cast stone dial and Royale Cherry housing. A unique three chime precision movement strikes your choice of Westminster Ave Maria or Bim Bam with breathtaking tones. Also standard is an adjustable volume level strike off and night silence feature allowing the flexibility to fit your individual lifestyle. A oneyear warranty is included with this clock. Two C batteries are required. H 84 .5inch 214.7 cm W 26 .25 inch 66.7 cm D 16 .25 inch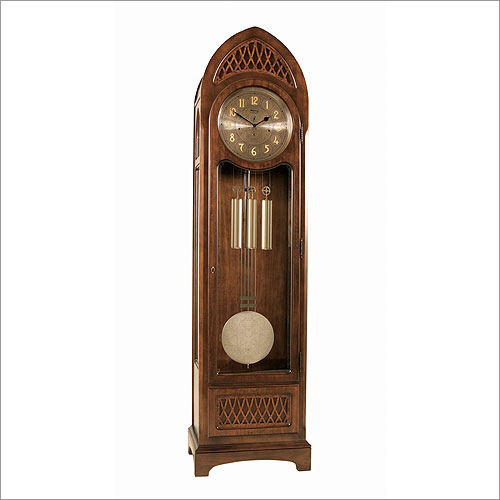 $3916.50
2523 Marquee One glimpse of the Marquee and youll know this clock is designed to speak to your soul. Like a fine piece of architecture the clean lines and intricate details are prevalent throughout this modern day recreation. Finished in Royale Cherry on select hardwoods and veneers this clock features olive ash burl fret panel inlays scalloped front corners brushed nickel accents and an elegantly arched top with curved panel inserts. A circular spun brushed nickel dial with brass Arabic numerals draw your attention the finely detailed vine and flower motif of the center disc. Brushed nickel weight shells complement the 275 mm 10 0.625inch pendulum. Beveled glass front and side panels sound resonating fabric access portals and three position touch lighting are just some of the fine details that complete this stunning case. The mechanical cable driven movement rings the beautiful Westminster chime with separate hour strike. A selectable night silence feature is standard with this moveme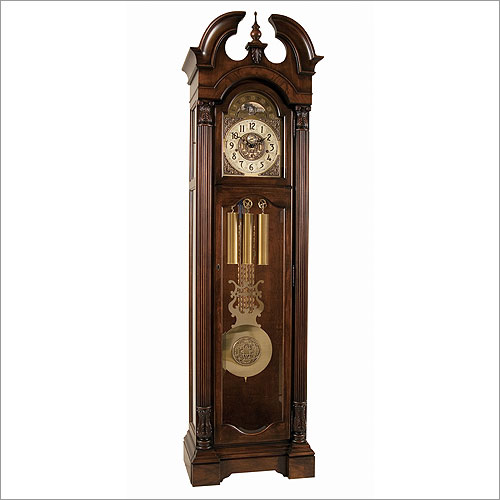 $4413.50
2527 Newberry Sophisticated yet graceful. Genuine yet refined. Bringing together fine details of the past and present the Newberry has a sense of style that is second to none. Finished in Royale Cherry and handcrafted from select hardwoods and veneers this superb clock features an elegantly shaped pediment front with a beautiful inlaid arch of olive ash burl veneer. The reeded columns are capped by intricately hand carved ornaments. A breakfront styled base moulding elevates the Newberry beyond the ordinary. An offwhite chapter ring with applied Arabic numerals offers a distinguished look. Antique brass center and corner castings embossed moon arch and functioning moon dial provide complementing details. Antique brass weight shells and a large 107/8 275mm pendulum bob with cast center disc twisted rods and lyre overlay completes the ensemble. Bringing the case to life is Ridgeways exclusive three position touch light interior cabinet light. The mechanical cable driven movement plays yo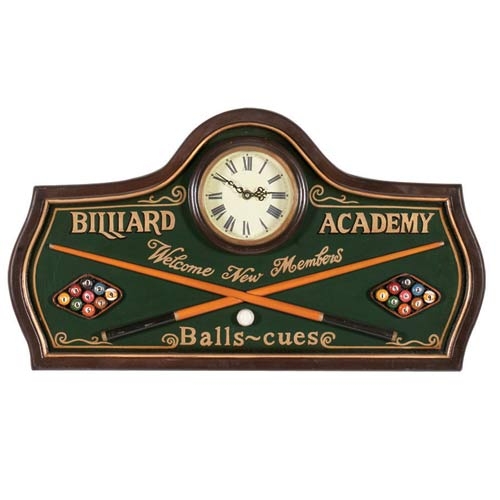 $78.00
The Billiard Academy Clock is a very classy addition to any pool room. It is hand painted and wood construction. It has a raised frame painted with a gold trim. The Billiard Academy Clock sign will add style and class to any gameroom. It measures 15 inches high and 26 inches wide.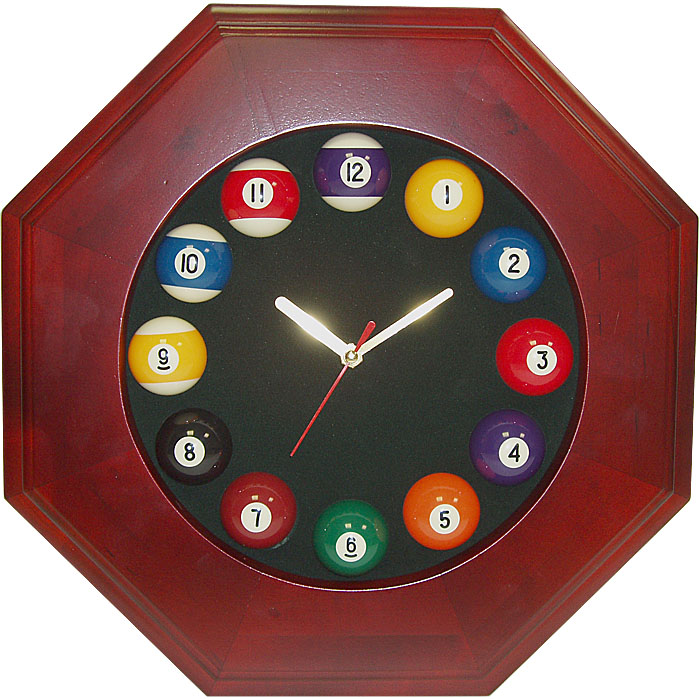 $47.70
Solid Wood Billiard Ball Clock. The clock is a 12.5 octagon design and has 12 individual pool billiard balls for each number and has a felt table background to it. The clock is powered by a AA battery (not included). Satisfaction ensured.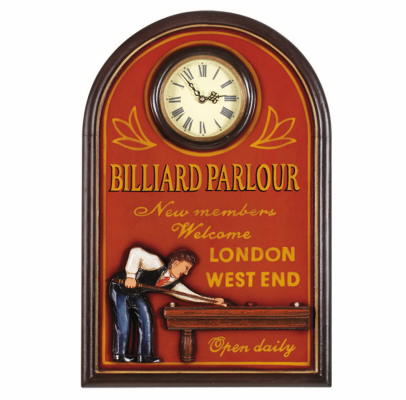 $78.00
RAM Gameroom provides classic decor to liven up your home game room This vintage style sign reads Billiard Parlour; New members welcome; London West End; Open Daily and features a man playing billiards. A roman numeral clock complements the design. Color: Red/Multi. Dimensions: 24 H x 16 W x 1.5 D. Style: Clock and Decor/Billiards.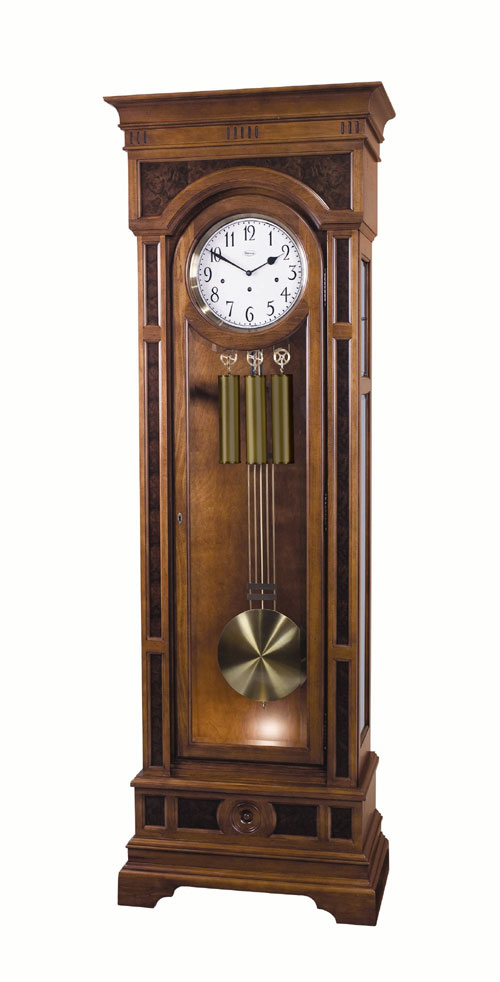 $6426.00
2543 Billiard The Billiard Room resembles an exclusive gentlemens social club of the age and was known as the Bachelors Wing in Biltmore House. This handsome floor clock bearing the same name and design qualities captures the magnificent aura of the Billiard Room. Constructed from select hardwoods and veneers featuring English walnut burl the Billiard floor clock stands poised in a dark caramel finish. The flattop design incorporating a large 300mm 11 .75 inch round antique white and aged brass dial will be a focal point in any living space for generations to come. An aged brass pendulum and matching weight shells highlight the mid case which can be softly illuminated to set the mood using Ridgeways exclusive touch light three position lighting system. A sculpted rosette design found on the archway in the Billiard Room is captured by English walnut burl in the lower case. The stepped base with adjustable levelers firmly anchors this timeless design. Other fine details include crystalcu
$114.00
Seiko SNXA22 Mens Watch Gold Tone Seiko 5 Automatic Dress Watch Champagne Dial
$135.70
Seiko SNZJ53 Mens Watch Stainless Steel Seiko 5 Automatic Link Bracelet Silver Tone Dial
$99.29
Seiko SNKL89 Mens Watch Seiko 5 Stainless Steel Case and Bracelet White Tone DIal Day and Date
$121.16
Seiko SNKL84 Mens Watch Seiko 5 Two Tone Stainless Steel Case and Bracelet White DIal Day and Date
Top Searches